QO USDA Certified Organic (Set of 2) Aged Thick Balsamic Vinegar of Modena Traditional Style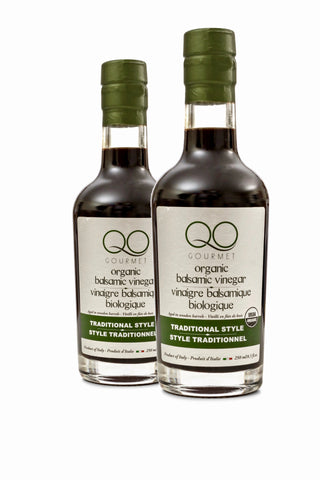 QO USDA Certified Organic (Set of 2) Aged Thick Balsamic Vinegar of Modena Traditional Style
SIZE: 8.5 Fl. Oz (250 ml)
DESCRIPTION:
QO USDA Certified Organic Balsamic Vinegar (Set of 2). With QO Organic Balsamic Vinegar of Modena, we have not only attained, but also exceeded, the powerful taste and exquisite texture of traditional Italian balsamic vinegar. Elegant, smooth, dense and silky—the words that describe the most desirable qualities of an exceptional balsamic—are the ones that will come instantly to mind with your first taste of QO Organic Italian Gourmet Balsamic Vinegar.
All natural, free of any artificial coloring, thickening agents or preservatives, No sugar or caramel added, sweetness and high density are obtained by reducing the grape must to a concentrate. Aged in wooden barrels.
PAIRING: ▪ beef ▪ pork ▪ cured meats ▪ chicken ▪ turkey ▪ fresh fruit ▪ cheese ▪ dark chocolate ▪ ice cream .
Try it on baked potatoes, grilled veggies and burgers !
Share this product on social media