QO Traditional Style Aged Thick Balsamic Vinegar of Modena (Set of 2)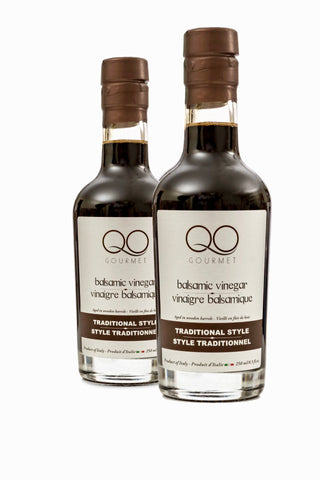 QO Traditional Style Aged Thick Balsamic Vinegar of Modena (Set of 2)
SIZE: 8.5 Fl. Oz (250 ml)
DESCRIPTION:  
QO Traditional Style Balsamic Vinegar (Set of 2 bottles) is proof that we haven't just succeeded in our quest to attain the robust flavor and perfect texture of authentic Italian balsamic vinegar—we've surpassed it. One taste of QO Traditional Style Balsamic and you'll know it has all the attributes you seek in a superior balsamic: elegance, smoothness, density, thickness, and silkiness.
All natural, free of any artificial coloring, thickening agents or preservatives. No sugar or caramel added, sweetness and high density are obtained by reducing the grape must to a concentrate. Aged in wooden barrels.
PAIRING: ▪ beef ▪ pork ▪ cured meats ▪ chicken ▪ turkey ▪ fresh fruit ▪ cheese ▪ dark chocolate ▪ ice cream
Try it on baked potatoes, grilled veggies and burgers !
Share this product on social media